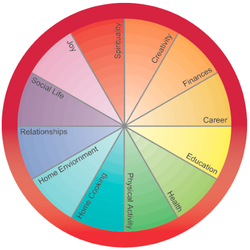 Bring balance to your life. Did you know that too much of anything can become a burden in your life? Make sure you have a healthy mixture of activities in your life. Take a look at the Circle of Life picture. Which areas in your life could use a positive boost?
Thriving with your MIND.
Have you noticed that your life seems to be getting busier and busier? Our society has become so technologically advanced that we are able to accomplish more in a day than we ever have before. We have become masters of multi-tasking. With the multi-tasking has also come the blurring of boundaries between work life and home life. In a sense, some of us are always working. While getting more things done and making more time to play can be incredibly gratifying, the multi-tasking can wear on our minds and on our relationships. Did you know that our brains can take in about an hour and a half of information before it gets saturated and needs a break to process what we have taken in? Have you noticed your pet, your child, or your partner trying to get your full attention when it was split between them and your smartphone? Studies are showing that our mental health depends on our mental hygiene--keeping our brains healthy! Research is showing us that our brains need a break, a rest, in order for us to be healthy physically and mentally. When our minds get a break, we are less stressed and happier. However, giving our minds a break is not so easy. It is a learned skill. Some of the research is showing that activities such as mindfulness, guided imagery, and meditation are good hygiene for your mind. The meditation being studied is not attached to any religion but is meditation for meditation sake. So go ahead, get a good night's sleep, take a shower, brush your teeth, wash your face, and meditate!
Here are a few good resources regarding your mental hygiene:
About Mindfulness
Jon Kabat-Zinn on Mindfulness, Stress Reduction and Healing
Investing in the Process to be Happy
Needed Downtime and Rest
Guided Imagery
(I particularly recommend CDs by Belleruth Naparstek, and Reduce Stress by David Illig)