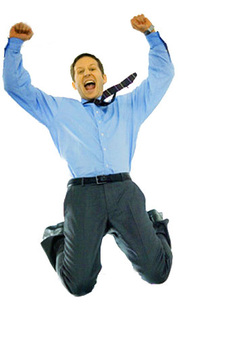 I just read this article today in the Washington Post about happiness. What I love about it is that HAPPINESS is NOT what we get when we work really hard. It isn't the reward at the end of hard work. The story that our society tells us that is a foundation for this country is that we have the right to pursue life, liberty, and happiness. We have been telling ourselves that this right is bought by seeking to obtain success and whatever the white picket fence means to you. Ironically, this article reminds us that happiness can happen now and is it NOT tied to work or accomplishment! In reality, happiness is related to inner states that can be, I believe in part---not in whole, fostered within us. Read the whole article for full details. But I will outline the quick five exercises towards happiness.
1) Foster gratitude in your life. Pick three things each day. Not three general things, but three very specific things that happened today. Do this each day.
2) Savor. One of the best ways we can increase happiness is to ruminate on the things that have made us happy. When we do that, we are strengthening the neuropathways around the things that make us happy. As the article reminds us, our inner world does not easily distinguish between the actual happening and remembered memory of the happening. We can build up that feeling just by going back to it and letting ourselves be in reverie over it!
3) Exercise. As I have noted before, helping those endorphins help you is a great way to increase your well-being! Get your heart rate up just enough to get the endorphin release!
4)Breathe. Research is showing more, that doing some mindful cleansing breaths each day for a few minutes can do you a world of good. Scared or unsure about healthy breathing? Check out this website:
6 Breathing Exercises to Relax in 10 Minutes or Less
5)Kindness. Wow. Kindness can be so underrated. Not only does kindness spread the love and happiness, but it actually makes us feel good about ourselves. It can also work like a boomerang and come back to us. It can be the gift that keeps giving.
What is wonderful about these five exercises is that they are applicable in a wide range of places in your life. Imagine how interpersonal relationships might change at work if you tried this. Imagine how your family life would blossom when you try this. Imagine how wonderful it would be to not have to wait years to have happiness now! Granted, nothing works if you try it once. You have to work hard to change the direction of your neuropathways and strengthen them. So just doing this today, isn't going to make the change. Doing this for three months as much as you can, that is when you will see the difference!
What if you stop or forget or have an overwhelming day? Start again. You get infinite mulligans! If you let a small miss become a monster that eats up all of the good, then you will be opposite of happy. We are all human. We are not robots. We won't every do anything perfectly consistently. So start over. Do it again. Do it again. Do it again. The sticking with it even through the failures is what leads to success.
I dare you to try it! Make it fun! Make it a game with your friends, family, or coworkers and see what happens.
Here's the awesome article:
Washington Post Article